OUR SELF-DISINFECTING HANDLE
A NEW HYGIENE STANDARD
The CleanMotion handle automatically disinfects itself after each use,
eliminating 99.9% of bacteria and viruses.
Innovative Technology

When the user removes his hand from the handle, a sponge in a ring is irrigated with disinfectant liquid from the reservoir.
The ring moves back and forth to spread a thin film of disinfectant on the surface, which evaporates within seconds. Deposited viruses and bacteria are eliminated immediately and the handle is safe for the next user.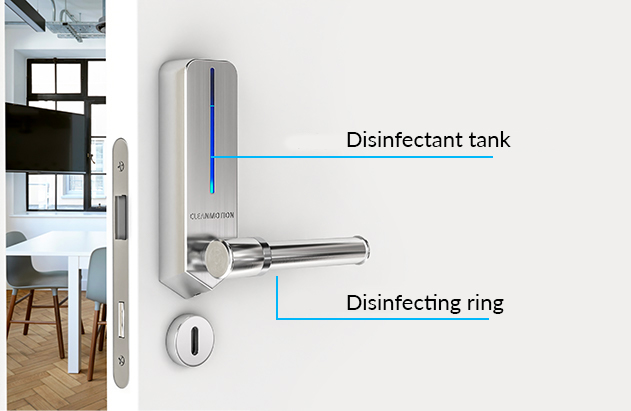 The CleanMotion handle in 5 points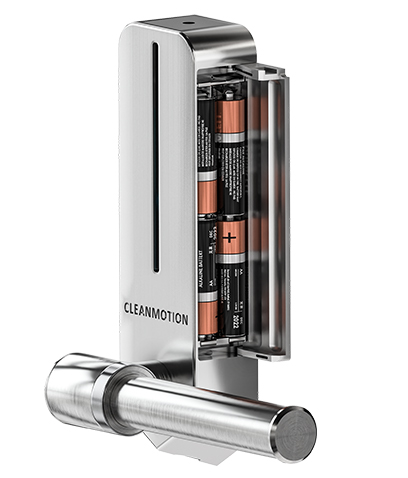 Simple and optimal installation
The CleanMotion handle is compatible with most interior doors and can be installed in about ten minutes. The handle is battery-operated and requires no cables or electrical connections.
Intuitive to use
The CleanMotion handle does not change the habits of the users, it is used like a traditional door handle. After disinfection, an indicator light shows that the handle has been disinfected.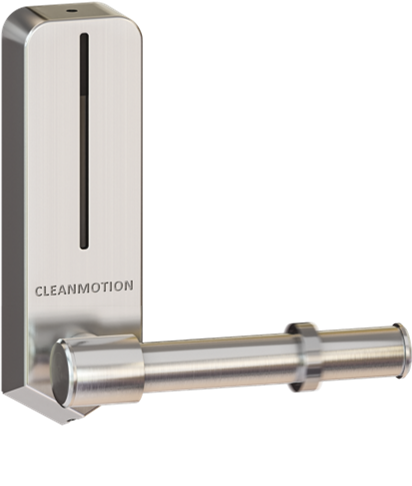 Effective and Safe Disinfection
Once the hand is removed from the handle, the ring spreads disinfectant on the surface eliminating 99.9% of bacteria and viruses. The handle is clean and safe for the next use. The ring is magnetically coupled to the movement mechanism, which prevents any possible shock to the hand or blocking of the mechanism.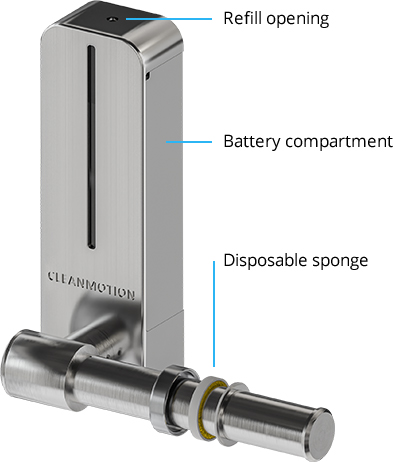 Minimal Maintenance
The tank is refilled with a specific liquid through the opening located on top of the case.
The volume of the reservoir allows a long autonomy of 2'000 disinfection cycles.
The CleanMotion handle requires 4x standard AA batteries for a long autonomy.
The disposable hygienic sponge in the ring and the batteries can be replaced in a few seconds. They can only be accessed with a special tool provided.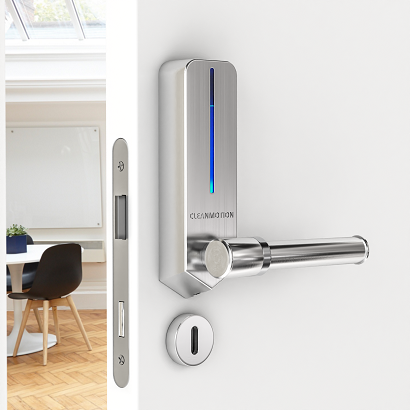 Designed to Last
The CleanMotion handle is made of noble materials such as aluminum and stainless steel, guaranteeing a long life in the most demanding environments.
Its sleek and modern design allows it to be positioned on any type of door.